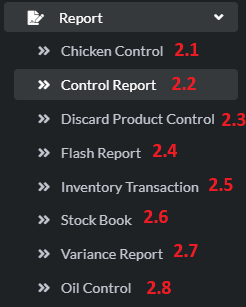 2.1 Chicken Control
-Chicken report is used to view chicken Total Sold, Discard, Closing Stock & etc by daily

2.2 Control Report
-Control report is used to view active item balance & transaction in the system.

2.3 Discard Product Control
-Discard product control report is used to view the discard item.

2.4 Flash Report
-Flash Report is used to view summary of Sales, Cost, Profit & Budget.

2.5 Inventory Transaction
-Inventory transaction is used to view all the transaction eg: Transfer In/Out, Credit Note, Discard.

2.6 Stock Book
-Stock Book used to view all the item code usage quantity.
Eg: Opening Balance, Stock Received, Actual Usage & Expected Usage.

2.7 Variance Report
-Variance Report used to view variance item quantity & cost.

2.8 Oil Control
-Oil control used to view OR oil, HS oil, & Fries Oil usage and oil change date.